Mason Brothers offer all full-time employees a complete benefits package including; 401K  (4% match) via Prudential, profit sharing, vacation, and sick time accrual, health insurance via Blue Cross Blue Shield, Avesis Vision Insurance, Delta Dental, and Met Life insurance, Supplemental Insurance via Colonial.  We also have a complete fitness center with basketball & racquetball courts and a swimming pool for our employees & their families.
POSITIONS CURRENTLY AVAILABLE:
ORDER FULFILLMENT SPECIALIST
30 hour work week with full-time benefits
Three 10 hour shifts (1 pm – 11 pm) (Sun-Mon-Tue or Wed-Thu-Fri)
$17/hr. while in training
$15/hr. + bi-monthly & quarterly bonus after training (bonus is based on performance and attendance)
RETAIL SALES & MARKETING REP
Visits retail stores according to route established by management.
Presents current promotions to store personnel to generate additional sales.
Effectively uses current Point of Sales (POS) material on all accounts.
Assist in merchandising product and store setups to schematic guidelines.
Visits with other sales team members on customer store to resolves issues
Work with the store on all special projects such as demos, trade events, remodels, new store openings, etc.
Act as a representative, or liaison, between Mason Brothers and customer stores
PROCUREMENT
Analytical Skills: the ability to work with a multitude of vendors to determine the best deals and products to warehouse, quality, speed to market, current trends, and other factors.
High level negotiating skills: must be a deal maker, prior sales experience is a plus.
Forecasting /budgeting skills: responsible for ordering product and maintaining optimal inventory levels based on market demand to maximize sales.
Customer –oriented: will act as a liaison, provide product information and resolve emerging problems that our clients may face.
Team player: in addition to working with vendors and clients, the candidate must be able to communicate constructively, listen actively, exhibit flexibility, work as a problem solver, and "pitch in" with many internal departments.
Comprehensive understanding of E-3 buying system, MS Excel, MS Word, & Gmail. 45 WPM, 150 KPM (10key) minimum.
TRUCK DRIVERS
Full Time & Part Time
Class A CDL & Clean Driving Record Required
Daily delivery routes to MN, ND, SD, IA, WI & MI
Wages are based on experience
MEAT PROCESSING / PACKAGING
Mechanical aptitude for running a packaging machine
Must be able to work both independently and as a team
A good attitude towards continuous improvements in food safety systems.
Strong attention to detail & ability to identify different meat cuts or be able to learn
The ability to follow general food safety practices (GMPs, HACCP, and SQF system)
Able to learn meat cutting knife skills as well as tenderizers, grinders, and other meat processing equipment (previous experience a plus!)
Basic knowledge of math, weights, and measurements
ABBY'S BAKERY POSITIONS
Journeyman Baker
Packaging Supervisor
Cake Decorator
JANITORIAL / OFFICE CLEANING
Send Resumes to: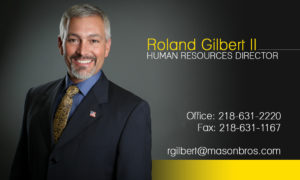 ROLAND GILBERT ∙ MASON BROTHERS COMPANY
PO BOX 230 ∙ WADENA, MN  56482
Submit your resume via e-mail to: